The Ultimate Guide to Creating Flyers
March 23, 2021 by Hannah Moody
A house flyer is a piece of advertising which is normally printed on a single piece of paper and distributed through letterboxes. The purpose of a house flyer is twofold, the primary purpose is to raise awareness and secondly, they should convert sales. Flyers achieve this by being colourful, fun and often offering an unmissable offer or discount.
While your flyers' purpose isn't to become a treasured work of art, it doesn't mean that you can't make stylish designs that fulfil both purposes.
There are primarily two types of house flyers used in advertising, door drops and addressed mail.
These flyers don't have a specific addressee and can be addressed to 'householder' or 'occupant' or sometimes they don't have an address at all and are more of a generic poster-style flyer.
These flyers are addressed to a specific person in the house, they may be more specific in who they target but in every other way these are the same as door drop flyers.
In short, there isn't an industry that doesn't benefit from house flyers. While every business may not utilise this form of marketing, it doesn't mean that they can't benefit from it. Graphic design is important for every business and over 60% of marketers find that graphic design is crucial for successful marketing.
House flyer graphic design tips
When designing a flyer, it is a great idea to observe what works and what is on-trend, without just copying them. Follow our design tips for house flyers below and you'll be sure to create a winning design.
What to include on a house flyer
When designing your flyer the most challenging part can be coming up with what to include, here are some helpful hints on what to put on your flyer:
Something that may seem obvious but can be easily forgotten is contact details

Directions to your event or store

Testimonials can be used to promote a product or focus on a strong business detail

Don't forget to include your business logo clearly on the flyer
Make sure any content on your flyer has been proofread and doesn't feature any spelling mistakes.
Make sure your content is easy to read
Keep your text short and concise, the essential information only. It can be tempting to add in more information, however, readers tend not to invest much time into flyers so keep what they read to the point.
Font sizes play a key part in keeping text to the point, don't be afraid to take up most of the flyer with a large font header. There are a couple of ways that you can pull out key text in bold, a different colour or by blowing up the font size.
Show your product clearly
Alongside making sure your text is clearly displayed and easy read, also make sure that your product is noticeably displayed on the flyer. It might seem like common sense, but it can be easy to get caught up with editing the content and moving aspects of the flyer around when designing it, it can be forgotten that the product should be the focus.
A good rule of thumb is to accompany each item of text with a simple image of the product. Remember that shops put their best products in the window on-show for a reason, your flyer should be the same.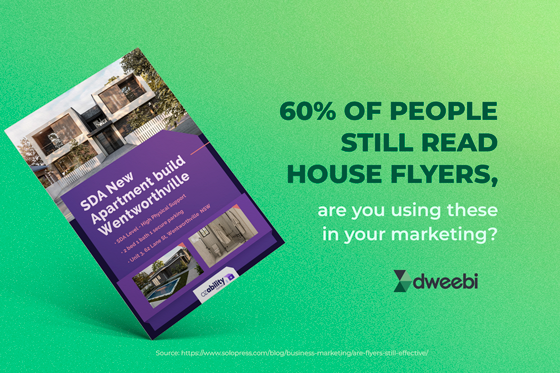 Great energy is what makes a good flyer. You want people to pick up your flyer and read it, the easiest way to do this is to make it fun! Contrasting colours can help make things stand out and grab attention, on the contrary if you want parts of your flyer to complement each other use similarities in value.
Remember to not go over the top! Sometimes too many colours and novelty fonts can distract from the message of your flyer. Aesthetics that are minimal and subtle whilst still being fun and high contrast, work wonders on house flyers. A good rule of thumb is to stick to a base palette of whites, greys and blacks and build your colours up from there.
You want your house flyers to convert sales. If you produce a stiff, corporate looking flyer, you risk people thinking you are not approachable and not engaging with the flyer.
A couple of ways to make your flyer look more approachable are to:
Include images of people smiling

Use softer tones in your colour palette

Use curved shapes rather than harsh lines
Shapes are an integral part of house flyers, they can elevate the look of the flyer and can add interest, divide and organise content as well as highlight important sections of the flyer.
Try and make your flyer a keeper
The longer you can get someone to keep your flyer the more valuable your flyers will become. Imagine your flyer being hung on the fridge for future reference, this is continuous advertising of your brand. If you are trying to create a flyer that will be kept for longer you will want to ensure your branding clearly stands out.
A beautifully designed flyer is more likely to be kept than one that is messy and hard to read. Treat your flyer like a piece of art, use high-quality images with complimenting colours and stylish typography. Another way to get your flyer to be kept for longer is to write timeless information, for example, if you are promoting a new food product, you could include a recipe on the flyer, this is more likely to get someone to keep it.
Utilise your flyers' space
One of the most challenging parts of creating a flyer is injecting all of the information whilst not making it look cramped. The easiest way of combating this is to apply a newspaper-style grid. You can separate your grid with spacing or with alternating colours to signify when one section ends, and another begins.
While you will want to utilise as much space as possible, you don't need to use it all. Using negative space in a design can make it classy and adaptable. The "breathing space" between sections can help a flyer look spaced out and not cramped together.
Frequently Asked Questions
What size should I print my flyers?
Most flyers as standard are A5 (148mm x 210mm) or they can often also be A6 (105mm x 148mm). The larger your flyer is, the more expensive it will be to print and the more likely it will be thrown out, as it will take up more space.
What is the difference between a flyer and brochure?
There isn't much of a distinctive difference between these two marketing terms, in fact, you may hear them refer to that same thing. Typically, a brochure refers to a piece of printed marketing with folds whereas a flyer is left flat.
Are house flyers still effective?
Yes. The reason they remain a popular marketing tool is that they are still effective, more than 60% of people read door drops. In fact, print promotion, including flyers, are still considered a key marketing tool and essential graphic design for businesses.
How many flyers should I print?
This question solely depends on your budget, when considering your marketing budget make sure you also take into account the cost of designing and distributing your flyers, not just the cost to physically get the flyers printed.
Flyer graphic design costs
Don't worry if you don't have an in-house design team there are still plenty of affordable options. One option is to design the flyer yourself using a design website like Canva, programmes like this are free to use and come with many pre-made ready-to-use templates. You could also use a freelance graphic designers' skill, or a designer on Fiverr to help create your flyer design.
The issue you face with any of the methods above is that you sacrifice quality in your flyers' design, in such a competitive market it is essential that your flyer stands out.
Here at Dweebi, we offer an unlimited graphic design service as well as the typical stand-alone graphic design. What unlimited graphic design means is that your business can have access to ongoing graphic design at a flat monthly fee.
Without hidden costs, you can choose a plan that suits your needs and upgrade, downgrade or cancel at any time. With unlimited graphic design, you have a designer on hand but without the hassle and overheads of an in-house designer or the expense of a freelancer.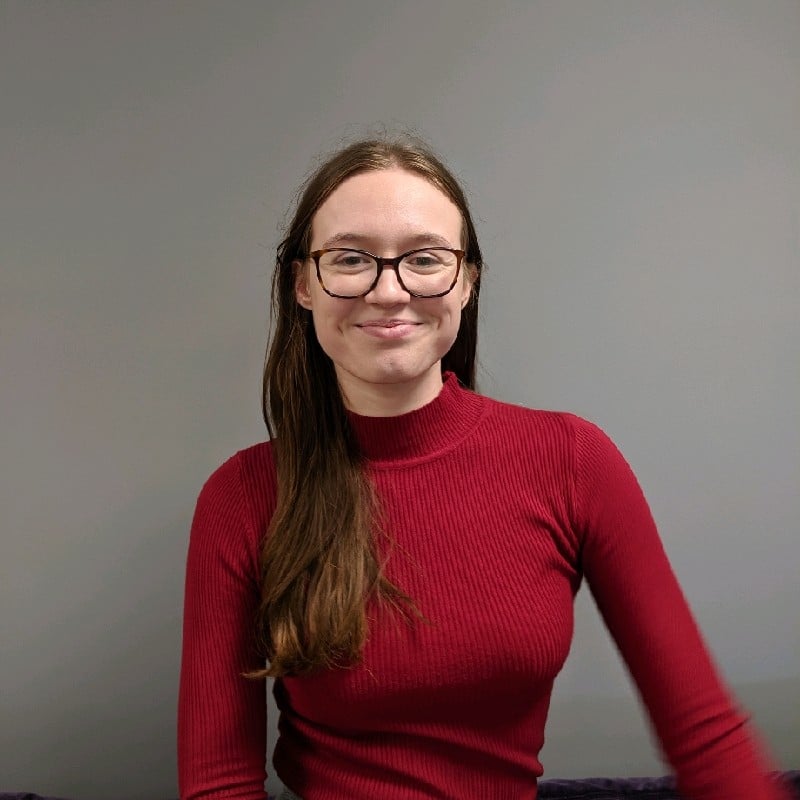 Creating an Eye-Catching & Effective Capability StatementWhat is a Capability Statement? How to Write a Capability Statement Capability Statement Template Make an Impact with a Professional Design Capability Statement ExamplesWhat is a Capability Statement? How to...
read more